ESTRATEGIA DOBLE ESTOCASTICO
Al duplicar en el análisis estocástico vamos a doblar en la precisión de comercio ... However, one should remember that with each new Forex tool added complexity can appear; and a very complex approach is not always good. Sin embargo, hay que recordar que con cada nueva herramienta de Forex añadido complejidad puede aparecer, y un enfoque muy complejos no siempre es bueno.
Strategy Requirements: Requisitos de Estrategia:
Currency pairs: ANY Los pares de divisas: NINGUNA
Time frame chart: 1 hour, 1 day Tiempo de éxitos del marco: 1 hora, 1 día
Indicators: Full Stochastic (21, 9, 9) and Full Stochastic (9, 3, 3). Indicadores: Full estocástico (21, 9, 9) y completa estocástico (9, 3, 3).
Entry rules: When the Stochastic (21, 9, 9) lines' crossover appears – enter (or wait for the current price bar to close and then enter). Entrada reglas: Cuando el (estocástico 21, 9, 9) líneas de cruce 'aparece - entrar (o esperar a que la barra de precio actual de cierre y vuelva a entrar). It will be the major trend. Esta será la tendencia principal.
Look at Stochastic (9, 3, 3) to anticipate swings inside the main trend and re-enter+ the market again – additional entries. Mira estocástico (9, 3, 3) a anticipar cambios dentro de la tendencia principal y volver a entrar + el mercado otra vez - las entradas adicionales. Also ignore the short-term moves Stochastic (9, 3, 3) that signal for exit – do not exit early until Stochastic (21, 9, 9) gives a clear signal to do so. También ignoran los movimientos estocásticos a corto plazo (9, 3, 3) que la señal de salida - no cierra temprano hasta estocástico (21, 9, 9) da una señal clara para hacerlo.
Exit rules: at the next cross of major Stochastic (21, 9, 9) lines. reglas de salida: en la cruz al lado de las principales estocástico (21, 9, 9) líneas.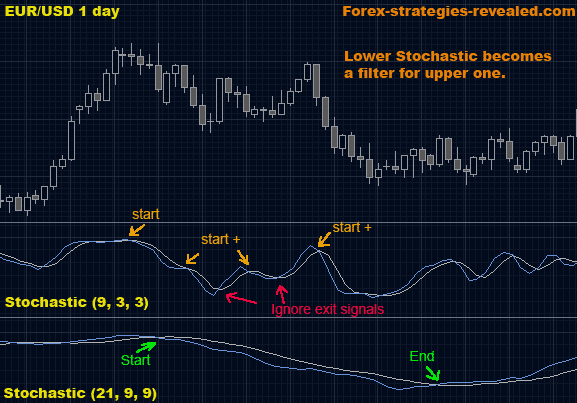 Ventajas: el uso de dos indicadores estocásticos ayuda a ver la tendencia principal y los cambios en su interior. This gives more accurate entry ruless and gives a good exit rules. Esto da ruless entrada más preciso y da una buena salida normas.
Disadvantages: needs constant monitoring, and again we are dealing with a lagging indicator. Desventajas: requiere un control constante, y de nuevo se trata de un indicador rezagado
Saludos,
César.


cesaral123

Super Cazador



Temas : 150
Fecha de inscripción : 03/06/2010



---
Permisos de este foro:
No puedes
responder a temas en este foro.