BAMBONI Scalping Strategy

[Tienes que estar registrado y conectado para ver este vínculo]
[Tienes que estar registrado y conectado para ver este vínculo]
Strategy Forex scalping for BAMBONI " - a very interesting vehicle for
currency pairs: GBP / USD, EUR / USD , the proposed trader Bamboni
(Bamboni), who kindly decided to share this strategy with the readers of
this blog (for which I am personally very grateful to him) because he
earns for her "good" profit and with a stable!
Suggested timeframe - M15.
In forex trading strategies using the following indicators forex:
PARAMON Scalp, Fisher Yur4ik, eASCTrend using i_trend, Signal Bars 6
(additional indicator forex - information - on the screen is on the
right above), Fractals (as an additional indicator) , simple moving
average SMA (100) - the range of -100, 0 shift, applied to a close, as
well as a simple moving average SMA (200) - the range - 200, shift 0,
applied to a close.
Entering the market for sale at a strategy Forex scalping on BAMBONI":
1) Price crosses the 100 day MA - SMA (100) . The next bar, after
penetration, a close below this 100 day MA.
2) The display EAtrend red line crossed the green from the bottom up .
3) If the 100 day moving average is above 200 day MA, then expect to
penetrate the 200 day MA and the closure of the next bar below the SMA (
200).
4) Exit the deal - the indicator Fisher Yur4ik, when it changes its
color to the opposite.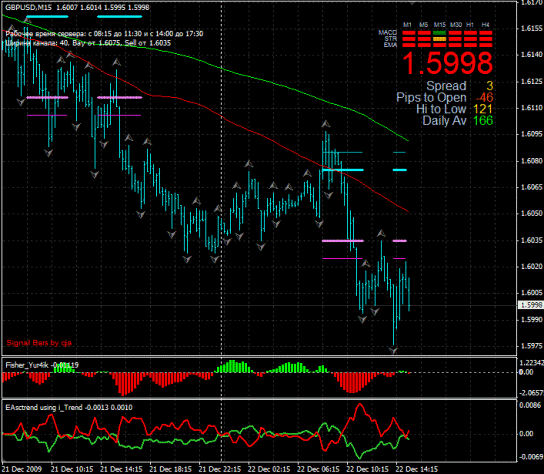 Entering the market for purchasing on a strategy Forex scalping for
BAMBONI ":
1) Price breaks SMA (200) - 200 day moving average. should wait until
after the penetration of the middle, the next bar closed above this
moving Wed edney.
2) on the display EAtrend - green line crosses the bottom up red . After
these 2 conditions, we enter into the market to purchase.
3) If the 200 day moving average is above 100 day MA (ie, the trend is
down), then wait for the reverse crossing medium and close the bar above
the SMA (200) .
3) exit from the transaction to produce signals indicator Fisher Yur4ik -
closing the deal, when this indicator will change its color on the
opposite (in this case red).
Stop-loss for all transactions : the purchase and sale of - 25 pips.
trailing stop for all positions 25-35 points.
Additional rules:
1) should not enter into a transaction if by the penetration of the
price moving average Moving converge at a converging triangle.
2) As an additional signal, you can add to the chart indicator forex
Jimb (when crossed, as it provides an additional signal)
If possible, we can take 15-20 pips on the indicator Paramon Scalp:
stop-loss order 15 points
Entering the market - the graph appear to 2 horizontal lines above and
below is the minimum and maximum of the current trading day. Install
pending orders and Sell at least the opening day and a warrant for the
Buy to the maximum opening of the day. We are waiting for penetration.
Profit 15 - 20 points (as the author on the history, gives good results)
bAJAR ESTRATEGIA:
[Tienes que estar registrado y conectado para ver este vínculo]
[Tienes que estar registrado y conectado para ver este vínculo]
Saludos
mOD.
---
Permisos de este foro:
No puedes
responder a temas en este foro.